Deep groove ball bearings, or Conrad bearings, are some of the most common bearings in the world. They can be used in anything from a lawn mower to cars and aircraft to multi-million dollar machines. Conrad bearings have the advantage that they are able to withstand both radial and axial loads, but have the disadvantage of lower load capacity due to the limited number of balls.
Akron Bearing stocks deep groove ball bearings in many sizes, both metric and English. We also have the experience to identify the bearing you may need. We represent many of the top manufacturers of deep groove ball bearings from around the world, such as:s that can be loaded into the bearing assembly. These bearings are often found with rubber contact seals or metal gap shields to keep lubrication inside the bearing and contamination out.
Akron Bearing stocks deep groove ball bearings in many sizes, both metric and English. We also have the experience to identify the bearing you may need.
An angular contact ball bearing uses axially asymmetric races. Angular contact bearings better support "combined loads" (loading in both the radial and axial directions) and the contact angle of the bearing should be matched to the relative proportions of each. The larger the contact angle, the higher the axial load supported, but the lower the radial load. A single angular contact bearing, however, can only accept the axial load in one direction.
Angular contact ball bearings also include double row ball bearings. These bearings, with twice the rolling elements, can take much higher radial load, as well as accept axial load both directions.

Akron Bearing knows more about angular contact bearings than we'd care to admit. We know the difference between a 15 degree and 40 degree contact angle. We know what's so important about the proper preload. And, often most importantly, we have a wide range in stock, from electric motor grade bearings to super high precision sets for machine tools and ball screws. Stop in today to take a look or give us a call!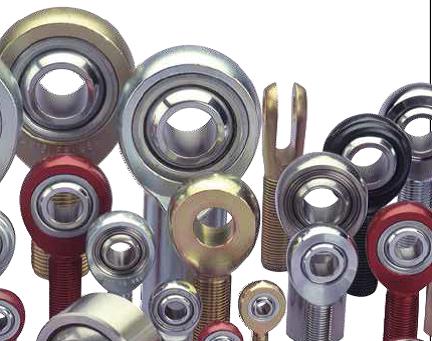 Plain bearings are a category that includes rod ends, spherical bushings, and other friction products. It also includes bushings from various materials like bronze, oilite, graphite, PTFE, nylon, and many others.
We also stock a large range of oilite and cast bronze bushings. We also have bar stock in cast bronze 13" lengths and oilite bar stock in 6 ½" lengths. You can find more information about our bronze offerings here. Call us to find out how we can help you with your plain bearing needs!
Self-aligning ball bearings have a spherical outer ring raceway, the center of whose curvature meats that of the bearing itself, so that the inner ring, ball and cage continue to rotate, aligning themselves if they have become misaligned within design limits. This type of bearing is suitable when the displacement of the centers around which the shaft and housing rotate and shaft deflection are likely to occur. Sometimes, they feature a tapered bore to fit the shaft with an adapter assembly. Also, it's possible to get these bearings with integral rubber lip seals.
Needle bearings are a very diverse range of products, from simply loose needles to heavy duty cam and yoke rollers. They can accept a relatively large radial load due to the shape of the rollers in a small cross section. They can also be found in a thrust design to take only axial loads.
Akron Bearing can help you with all your needle bearing needs. We stock cam followers and yoke rollers, the heavy duty bearings meant to be used as a roller. We also have the more economic designs like drawn cup needle bearings and even machined race designs. And of course, we have them in inch and metric sizes.
In 1898, Henry Timken was awarded a patent for the tapered roller bearing. At the time, Timken was a carriage-maker in St. Louis and held three patents for carriage springs. However, it was his patent for tapered roller bearings that allowed his company to become successful.

Tapered roller bearings were a breakthrough at the end of the 19th century because bearings used in wheel axles had not changed much since ancient times. They relied on bearings enclosed in a case that held lubricants. These were called journal bearings and depended on lubricants to function. Without proper lubrication, these bearings would fail due to excessive heat caused by friction. Timken was able to significantly reduce the friction on his bearings by using a cup and cone design incorporating tapered bearings that actually rolled, which reduced the load placed on the bearings by distributing the weight and load evenly across the cups, rollers, and the inner race.

These can take both large axial and radial forces, making them ideal for a wide range of applications. In many applications tapered roller bearings are used in back-to-back pairs so that axial forces can be supported equally in either direction.

Pairs of tapered roller bearings are used in car and vehicle wheel bearings. Other common real world applications are in agriculture, construction and mining equipment, axle systems, and gear boxes or speed reducers.
These bearings are some of the most versatile and hardest working bearings in our arsenal. Spherical roller bearings are dedicated to extremely severe applications and must support high loads, severe misalignment, contaminated environments, shocks, and vibrations. They can accommodate misalignment as well. Often, they have a tapered bore for use with a matching tapered sleeve, in order to securely install them to the shaft.
Akron Bearing knows what you need for spherical roller bearings. We stock sizes over 12" in diameter here. We have stock as well on C4 clearance, or shaker screen specialty bearings.
Cylindrical roller bearings are a work horse of the bearing world. They can take tremendous radial loads, but are limited by their speed and axial load capability. Usually, you can remove either the inner race or outer race to make installation easier. While these aren't as common as other types of bearings like tapered or spherical roller units, they certainly have their place and Akron Bearing has the expertise to help you identify that.
Bearings which are inserted into some sort of housing are considered mounted bearings. They can be ball bearings, or heavy duty roller bearings and in many different types of housings. Pillow blocks are very common, as well as 2, 3, or 4 bolt flanges. Flange units are available in flush mount or piloted designs. Take up unit slide along rails in a frame, which can allow for tightening of belts or other drive components.
It's one thing to get something spinning with the help of a bearing. Another type of motion is in a linear, or back and forth, dimension. Akron Bearing can help you with your linear motion needs. Most utilize recirculating ball or roller bearing elements (although some use plain bearings with special low friction coatings) that allow for smooth movement along track or rail. These systems can be very long, quiet, move quickly and carry a lot of load, depending on what type of system is used. Some common types include:
Slide Guides – high precision, high rigidity bearing which lower friction and do not stick or slip. They have very smooth operation even under high loads.
Slide ways / tables – non-recirculating bearings with a very high level of precision. Found often in measurement equipment.
Slide bushings – one of the most common types of linear bearings, these bushings work on special hardened round shafts and bushings either by themselves or mounted in housings. There is a broad range of designs for these bearings, which makes them suitable for most applications.
Akron Bearing can help you with your linear bearing needs. We work with manufacturers like THK, Thompson (now Danaher Motion), NB, IKO, INA, Pacific Bearings, Star Linear (or Bosch Rexroth), and many others. Give a call or stop by our store today to see what Akron Bearing can do for you.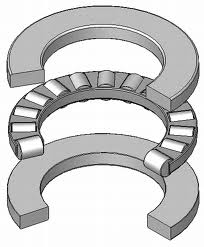 Thrust bearings are a category of anti-friction bearings all to themselves, but they share many characteristics of the other categories. Any bearing can be called a thrust bearing if it takes the majority of its load in the axial direction. Common ones include; thrust ball bearings, thrust needle bearings, thrust tapered roller bearings, thrust spherical roller bearings, and thrust bronze washers.
Akron Bearing understands the depth and breadth of the varieties of thrust bearings and can not only help guide you to the right choice, but can often hand it to you out of their massive inventory. Stop by or call today and ask any of the bearing experts here to help you.